ISH, the world's leading trade fair for HVAC + Water, opens its doors once again in Frankfurt am Main from 13 to 17 March 2023. There, artisans, planners and architects, suppliers, representatives of the wholesale trade, the real-estate business, the building sector and politics can inform themselves about current and future developments in the field of sanitation, heating and air-conditioning technology. At this, the leading international platform for the energy transition in the buildings sector, the industry presents its market-ready solutions for a sustainable future. Altogether, some 2,000 companies from 54 countries are exhibiting their latest products and solutions for utilising renewable sources of energy, sustainable water consumption and clean air.
ISH Energy with clever innovations for the energy transition.
The focus of social discussion has shifted to the top themes of ISH Energy. Today, the spotlight is on products and solutions for achieving climate-protection goals in buildings, the decarbonisation of the heating sector and the security of supply. Stefan Seitz, Director of ISH Brand Management at Messe Frankfurt, is looking forward to the sector's highlight of the year: "The ISH Energy section embraces the entire technical spectrum: the exhibitors, who include the world's leading manufacturers, present solutions designed to meet the challenges of our time, i.e., climate protection, sustainability and supply security. Following the pandemic-induced interregnum, they want to show their latest innovations and are looking forward to the trade fair. At last, it is once again time to explain the products and solutions at the fair and to conduct personal discussions."
Altogether, some 1,100 exhibitors are presenting their new products within the framework of ISH Energy in Halls 8 to 12. One of the top themes there is the heat pump in all its versions – an important component for the implementation of the energy transition. Naturally, the spotlight is also on many other solutions, e.g., CHP installations, fuel-cell heating systems, photovoltaic and solar-thermal systems, hydrogen-capable condensing boilers, wood-based systems, such as pellet heating systems, digital solutions, home ventilation with heat recovery and energy-saving automation.

The ISH Contactor provides an up-to-date overview of all exhibitors and their product portfolios. Via a special-interest filter, the Contactor can also be used to gather information about the most important issues facing the sector. Additionally, the Contactor can generate lists of manufacturers offering products and solutions for specific subject areas. The themes of ISH can be filtered according to:
Solutions for sustainable energy storage
Solutions for digital networking in buildings through energy management systems
Solutions for efficient process optimisation
All ISH special interest solutions can be found at: Solutions for a sustainable future
Top brands are once again to be seen live at their leading international trade fair
The Hall Plan clearly shows how the various product groups are arranged. Thus, manufacturers of heat pumps, home energy management systems, energy storage and complete heating systems are concentrated in Halls 12.0 and 12.1. In Hall 11.0, the focus is on suppliers of wood-fired heating and flue-gas technology, as well as heat technology and transfer. In Halls 10.2 and 10.3, visitors will find products and solutions revolving around plant, room and building automation, measuring and testing equipment and building-energy management. As at previous editions of the fair, Halls 9.0 and 9.1 provide the setting for heat-distribution solutions while the focus in Hall 8 is on cooling, air-conditioning and ventilation technology.
The exhibitors include many market leaders, such as Bosch Thermotechnik, Caleffi, BDR Thermea, Daikin Europe, Danfoss, Glen Dimplex, ebm-Papst, Helios, Jeremias, Kampmann, Kermi, LG Electronics, Mitsubishi, Nibe, Ökofen, Oventrop, Panasonic, Reflex, Samsung, Siemens, Stiebel Eltron, Swegon, Systemair, Trox, Vaillant, Viessmann, Wago, Weishaupt, Wilo, Wolf, etc.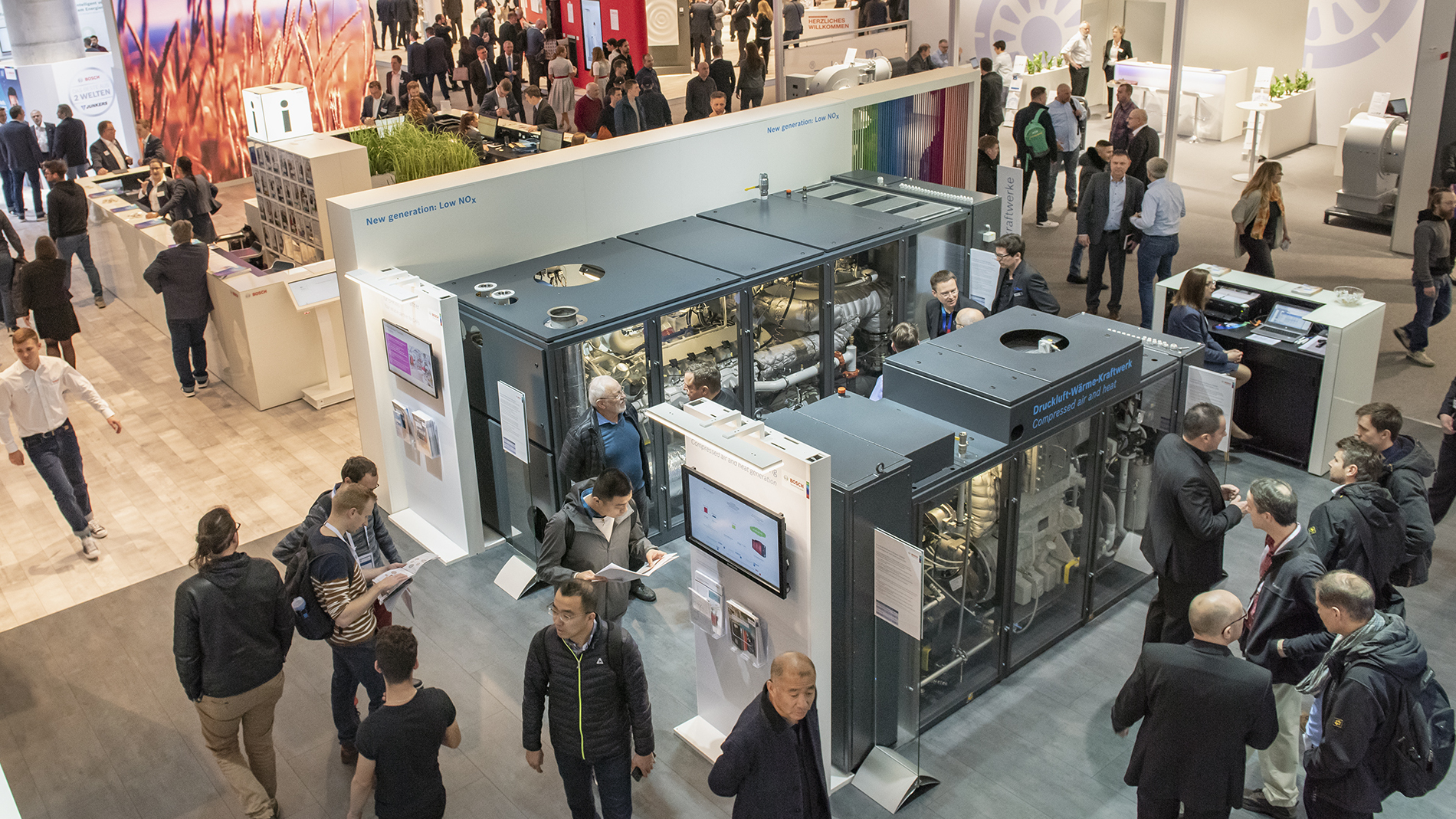 The products and services offered by the exhibitors are flanked by a comprehensive programme of events. With a wide-ranging series of lectures, the Energy Hotspot takes up the most important issues in the heating sector and, simultaneously, provides a central meeting place for the sanitation, heating and air-conditioning trade. Moreover, the Hotspot puts the spotlight on energy storage and energy management. In the Wood Energy Hotspot, the focus is on the domestic and almost CO2-neutral energy resource wood. Here you can find out everything worth knowing about wood-based heating systems, the associated technical components and about wood as an energy source. Additional opportunities to gather information, as well as to participate in training events and networking, are offered by the Indoor Air and Building Technology Hotspots.
Promising solutions by newcomers are to be found at Start-up@ISH.
A complete overview over Hotspots, competitions and guided tours can be found at www.ish.messefrankfurt.com/events.
+++ Online Press Accreditation +++
Online press accreditation for ISH 2023 is now open and can be accessed via the following link:
https://presseakkreditierung.messefrankfurt.com
Due to a system change, please note:
The previous login details for the accreditation tool of Messe Frankfurt (prior to 2021) are no longer valid.
Should you already have a Messe Frankfurt login, please use this to register.
During this process, we would be grateful if you could update and / or complete your profile.
If this is the first time you have applied for accreditation via the new portal and have no account, please go through the registration process step-by-step.
Should you have any questions, please do not hesitate to contact us at press.ish@messefrankfurt.com
Background information on Messe Frankfurt
The Messe Frankfurt Group is one of the world's leading trade fair, congress and event organisers with their own exhibition grounds. With a workforce of some 2,200* people at its headquarters in Frankfurt am Main and in 28 subsidiaries, it organises events around the world. Group sales in financial year 2022 were around €450 million*. We serve our customers' business interests efficiently within the framework of our Fairs & Events, Locations and Services business fields. One of Messe Frankfurt's key strengths is its powerful and closely knit global sales network, which covers around 180 countries in all regions of the world. Our comprehensive range of services – both onsite and online – ensures that customers worldwide enjoy consistently high quality and flexibility when planning, organising and running their events. We are using our digital expertise to develop new business models. The wide range of services includes renting exhibition grounds, trade fair construction and marketing, personnel and food services.
Sustainability is a central pillar of our corporate strategy. Here, we strike a healthy balance between ecological and economic interests, social responsibility and diversity.
For more information, please visit our website at: www.messefrankfurt.com/sustainability
With its headquarters in Frankfurt am Main, the company is owned by the City of Frankfurt (60 percent) and the State of Hesse (40 percent).
For more information, please visit our website at: www.messefrankfurt.com
* Preliminary figures for 2022